Trailer perdana The Hunger Games: The Ballad of Songbirds and Snakes telah dirilis untuk mempromosikan prekuel dari franchise The Hunger Games yang dibintangi oleh Tom Blyth dan Rachel Zegler.
Trailer ini membawa kita kembali ke edisi ke-10 Hunger Games, dan menunjukkan bahwa revolusi telah terjadi ketika Lucy Gray Baird (Rachel Zegler) dari Distrik 12 menemukan cara untuk menentang otoritas selama upacara perekrutan untuk mendapatkan penghargaan. Sementara itu, Snow (Tom Blyth) yang berusia 18 tahun berjuang untuk membangun kembali reputasi keluarganya setelah nama keluarganya jatuh.
Dalam trailer yang dirilis oleh Lionsgate ini menunjukkan Lucy dan Coriolanus semakin dekat saat keduanya dipasangkan, dengan Coriolanus yang bertindak sebagai mentornya dalam kontes yang mematikan tersebut. Bahkan ketika dia mencoba membimbingnya menuju kemenangan untuk tujuannya sendiri, jelas sekali bahwa perwakilan Distrik 12 tersebut memiliki pengaruh pada dirinya, mempertanyakan cara segala sesuatunya dilakukan. Namun demikian, trailer ini memperkenalkan begitu banyak elemen yang penonton sudah tahu akan menjadi bagian yang diharapkan dari Hunger Games. Kombinasikan hal tersebut dengan nasib akhir Coriolanus, dan mudah untuk membayangkan di mana tantangan ini akan menjadi masalah baginya dan Lucy.
The Hunger Games: The Ballad of Songbirds and Snakes disutradarai oleh Francis Lawrence, yang mengambil alih kendali franchise ini sekali lagi setelah menyutradarai tiga seri sebelumnya. Skenarionya diadaptasi oleh pemenang Academy Award, Michael Arndt (Oblivion) bersama dengan Michael Lesslie (Assassin's Creed). Sekali lagi, film ini didasarkan pada novel Suzanne Collins, yang juga merupakan prekuel dari trilogi Hunger Games.
Selain Zegler dan Blyth, film prekuel mendatang ini juga akan dibintangi oleh Hunter Schafer, Peter Dinklage, Viola Davis, Jason Schwartzman, Isobel Jesper Jones, Fionnula Flanagan, Flora Li Thiemann, Honor Gillies, Eike Onyambu, Konstantin Taffet, Burn Gorman, Scott Folan, Carl Spencer, Michael Greco, Daniela Grubert, Kjell Brutscheidt, Ashley Liao, Sofia Sanchez, Josh Andres Rivera, Mackenzie Lansing, Lilly Maria Cooper, Zoe Renee, Max Raphael, Vaughan Reilly, Dakota Shapiro, Nick Benson, dan George Somner.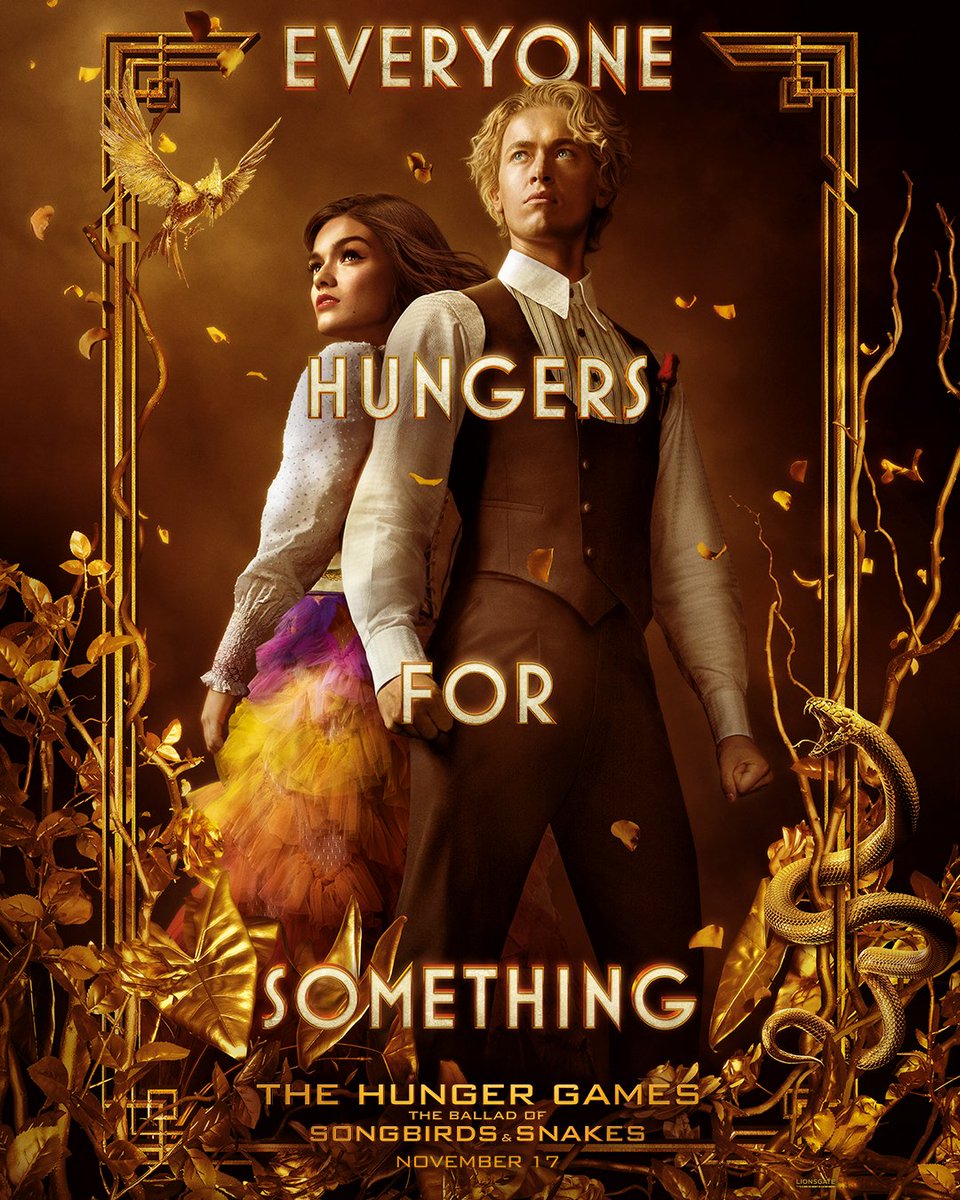 The Hunger Games: The Ballad of Songbirds and Snakes tayang perdana di bioskop Amerika pada tanggal 17 November 2023 ini.