Searchlight Pictures akhirnya menetapkan tanggal rilis baru untuk film drama arahan Wes Anderson yang bertabur bintang, The French Dispatch. Film ini awalnya dijadwalkan untuk rilis pada tahun 2020, namun kini film ini baru akan tayang di bioskop pada tanggal 22 Oktober 2021. Pengumuman tanggal juga disertai dengan sebuah motion poster baru yang menampilkan patung Liberty sedang melambaikan tangannya.
Selain itu, The French Dispatch juga akan tayang perdana secara terbatas pada bulan Juli mendatang di Festival Film Cannes 2021. Setelah debutnya di Cannes, film ini kemudian akan diputar di New York Film Festival ke-59 sebelum dirilis secara luas.
Start the Presses
The French Dispatch Arrives in Theaters October 22, 2021
Official Selection 74th Festival de Cannes
Official Selection 59th New York Film Festival#TheFrenchDispatch pic.twitter.com/LVPmavF4QG

— The French Dispatch (@french_dispatch) May 27, 2021
Para bintang keren yang akan membintangi film ini adalah Benicio Del Toro (Sicario: Day of the Soldado, Traffic), Adrien Brody (The Pianist), dan Tilda Swinton (Suspiria, Michael Clayton) bersama dengan Timothée Chalamet (Beautiful Boy, Call Me by Your Name), Bill Murray (Lost in Translation), dan Owen Wilson (The Royal Tenenbaums). Léa Seydoux (Spectre), Lyna Khoudri (The Blessed), Jeffrey Wright (Westworld), Mathieu Amalric (The Grand Budapest Hotel), Stephen Park (Fargo) juga membintangi film tersebut bersama dengan Liev Schreiber, Elisabeth Moss, Edward Norton, Willem Dafoe, Lois Smith, Saoirse Ronan, Christoph Waltz, Anjelica Huston, Jason Schwartzman, Henry Winkler, dan banyak lagi.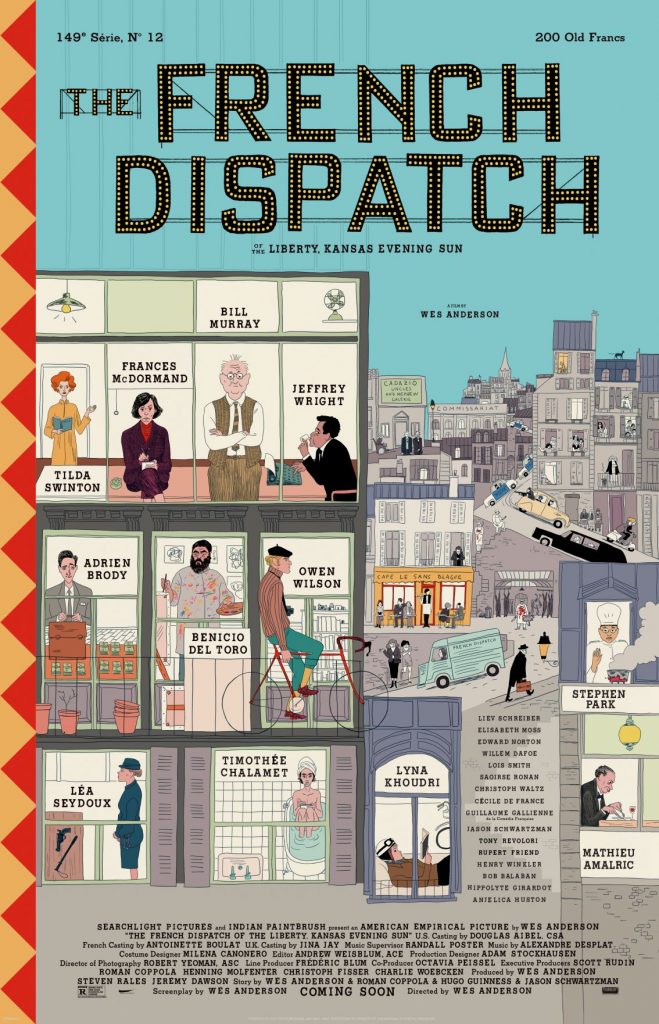 Film The French Dispatch dideskripsikan sebagai surat cinta kepada para jurnalis yang ditempatkan di pos terdepan sebuah surat kabar Amerika di kota fiksi abad ke-20 di Prancis. KIisahnya berpusat pada tiga alur cerita yang kemudian menjadi kumpulan cerita yang diterbitkan dalam majalah "The French Dispatch".
The French Dispatch ditulis dan disutradarai oleh Wes Anderson dari sebuah cerita yang disusun oleh Anderson, Roman Coppola, Jason Schwartzman, dan Hugo Guinness. Film ini secara independen dibiayai oleh miliarder Steve Rales dari Indian Paintbrush, yang secara teratur mendukung proyek-proyek film Anderson.