Tidak semua orang senang dengan rencana sutradara Len Wiseman untuk memproduksi prekuel dari Die Hard yang diberi sub judul Year One. Rencananya Wiseman akan bekerjasama dengan Lorenzo di Bonaventura, produser dari film Transformers dan Red untuk melanjutkan franchie detektif "susah mati" ini. Setting film ini akan menceritakan kisah McClane ditahun 1979 ketika dia masih menjadi polisi New York yang kasar (sebelum menjadi detektif).
Seorang penulis dan produser film indie yang juga penggemar berat film Die Hard melakukan protes atas rencana pembuatan prekuel ini. Ia menyampaikan pendapatnya dengan cara memasang iklan sehalaman penuh di koran The Hollywood Reporter. Eric D. Wilkinson, yang telah menghasilakan film indie berjudul Sparks dan Mischief Night ini menghawatirkan rencana prekuel ini karena akan merusak karakter John McClane yang telah dibangun oleh franchise ini.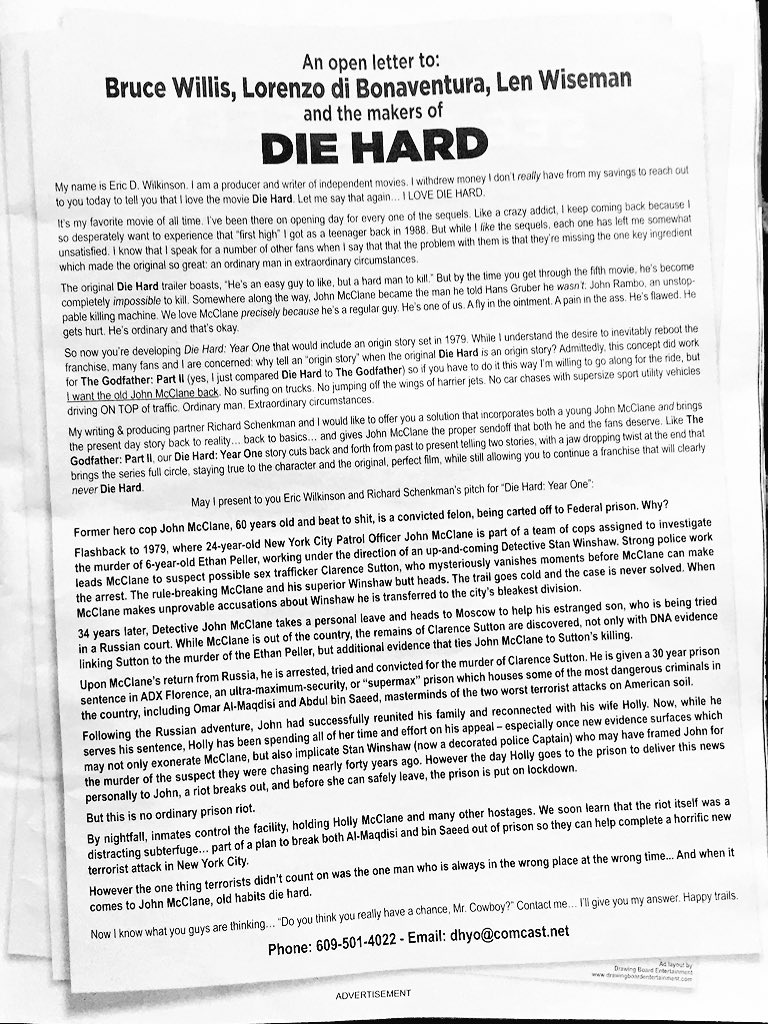 Tidak hanya memprotes rencana prekuel ini ,Wilkinson juga memberikan ide cerita untuk lanjutan franchise ini. Cerita yang ditulisnya bersama sang rekan Richard Schenkman menurutnya mempunyai alur yang lebih menarik. Berikut ini adalah ide cerita dari mereka yang dirilis melalui Indiewire.
"Former hero cop John McClane, 60 years old and beat to shit, is a convicted felon, being carted off to a Federal prison. Why?
Flashback to 1979, where 24-year-old New York City Patrol Officer John McClane is part of a team of cops assigned to investigate the murder of 6-year-old Ethan Peller, working under the direction of an up-and-coming Detective Stan Winshaw. Strong police work leads McClane to suspect possible sex trafficker Clarence Sutton, who mysteriously vanishes moments before McClane can make the arrest. The rule-breaking McClane and his superior Winshaw butt heads. The trail goes cold and the case is never solved. When McClane makes unprovable accusations about Winshaw he is transferred to the city's bleakest division.
34 years later, Detective John McClane takes a personal leave and heads to Moscow to help his estranged son, who is being tried in a Russian court. While McClane is out of the country, the remains of Clarence Sutton are discovered, not only with DNA evidence linking Sutton to the murder of Ethan Peller, but additional evidence that ties John McClane to Sutton's killing.
Upon McClane's return from Russia, he is arrested, tried and convicted for the murder of Clarence Sutton. He is given a 30 year prison sentence in ADX Florence, an ultra-maximum-security, or "supermax" prison which houses some of the most dangerous criminals in the country, including Omar Al-Maqdisi and Abdul bin Saeed, masterminds of the two worst terrorist attacks on American soil.
Following the Russian adventure, John had successfully reunited his family and reconnected with his wife Holly. Now, while he serves his sentence, Holly has been spending all of her time and effort on his appeal – especially once new evidence surfaces which may not only exonerate McClane, but also implicate Stan Winshaw (now a decorated police Captain) who may have framed John for the murder of the suspect they were chasing nearly forty years ago. However the day Holly goes to the prison to deliver this news personally to John, a riot breaks out, and before she can safely leave, the prison is put on lockdown.
But this is no ordinary prison riot.
By nightfall, inmates control the facility, holding Holly McClane and many other hostages. We soon learn that the riot itself was a distracting subterfuge… part of a plan to break both Al-Maqdisi and bin Saeed out of prison so they can help complete a horrific new terrorist attack in New York City.
However the one thing the terrorists didn't count on was the one man who is always in the wrong place at the wrong time… And when it comes to John McClane, old habits die hard."
Bagaimana menurut anda?