DUNE streaming dI HBO GO. Film yang mengambil lokasi syuting di Hungaria, Yordania, Abu Dhabi dan Norwegia.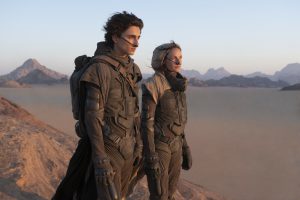 Nominasi Academy Award Denis Villeneuve ("Arrival," "Blade Runner 2049") menyutradarai film Warner Bros. Pictures dan Legendary Pictures, DUNE, adaptasi layar lebar dari buku bestseller karya Frank Herbert berjudul sama.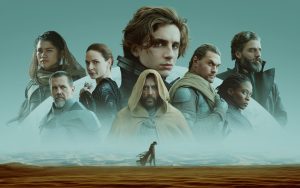 Sebuah perjalanan sosok pejuang yang mistis dan emosional, "Dune" berkisah tentang Paul Atreides, pemuda brilian dan berbakat yang dilahirkan dengan takdir di luar pemahamannya, ia harus bepergian ke planet paling berbahaya di alam semesta guna memastikan masa depan kehidupan keluarga dan rakyatnya. Ketika kekuatan jahat meledak menjadi konflik akibat pasokan eksklusif dari planet yang menjadi sumber daya paling berharga – sebuah benda yang mampu mengalahkan potensi terbesar manusia – hanya mereka yang dapat menaklukkan ketakutannya yang dapat bertahan.
Dengan suasana ratusan tahun di masa depan, Paul Atreides, putera tercinta dari sang penguasa Duke Leto dan pendeta Wanita yang juga pejuang tangguh Lady Jessica, akan menjalankan ujian pamungkas: untuk mengalahkan ketakutan yang ditakdirkan – dan kekuatan besar yang kasat mata – menarik dirinya tanpa dapat ditolak menuju ke hamparan pasir di planet terpencil Arrakis.
Arrakis — rumah bagi peradaban masyarakat setempat yang dijuluki Fremen dan dikenal oleh mereka sebagai Dune—telah menjadi perebutan yang sengit selama beberapa generasi. Pertarungan kemanusiaan untuk menguasai Spice, sumber daya alami yang langka, bernilai tinggi, membuka wawasan, yang menjadi andalan perjalanan angkasa luar, pengetahuan, perdagangan, dan keberadaan manusia. Namun mereka yang ingin memanen Spice harus bertahan terhadap panasnya planet yang tak ramah, badai pasir luar biasa, serta cacing pasir monolitik yang ditakuti dan merupakan jenis tertentu yang disediakan bagi para dewa.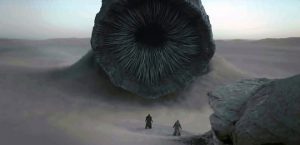 Film nominasi Oscar ini dibintangi oleh Timothée Chalamet ("Call Me by Your Name," "Little Women," "The French Dispatch"), Rebecca Ferguson ("Stephen King's Doctor Sleep," "Mission: Impossible – Fallout"), Oscar Isaac (the "Star Wars" franchise) Oscar nominee Josh Brolin ("Milk," "Avengers: Infinity War"), Stellan Skarsgård (HBO's "Chernobyl," "Avengers: Age of Ultron"), Dave Bautista (the "Guardians of the Galaxy" films, "Avengers: Endgame"), Stephen McKinley Henderson ("Fences," "Lady Bird"), Zendaya ("Spider-Man: Homecoming," produksi HBO "Euphoria"), Chang Chen ("Mr. Long," "Crouching Tiger, Hidden Dragon"), David Dastmalchian ("Blade Runner 2049," "The Dark Knight," "The Suicide Squad"), Sharon Duncan-Brewster ("Rogue One: A Star Wars Story," produksi Netflix "Sex Education"), bersama bominasi Oscar Charlotte Rampling ("45 Years," "Assassin's Creed"), serta Jason Momoa ("Aquaman," produksi HBO "Game of Thrones"), dan peraih Oscar Javier Bardem ("No Country for Old Men," "Skyfall," "The Little Mermaid").
Villeneuve menyutradarai DUNE dari naskah karya Jon Spaihts dan Villeneuve serta peraih Oscar Eric Roth ("Forrest Gump") dari novel berjudul sama yang ditulis oleh Frank Herbert. Nominasi Oscar Mary Parent ("The Revenant"), Villeneuve, Cale Boyter dan Joe Caracciolo Jr. memproduksi film ini. Dengan executive producer Tanya Lapointe, Joshua Grode, Herbert W. Gains, Jon Spaihts, Thomas Tull, Brian Herbert, Byron Merritt dan Kim Herbert.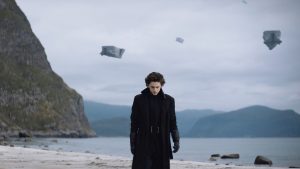 Di balik layar, Villeneuve bersama sejumlah artis yang memenangkan dan menjadi nominasi Academy Award, bekerja bareng lagi dengan production designer yang dua kali masuk nominasi Oscar Patrice Vermette ("Arrival," "Sicario," "The Young Victoria"), editor yang menjadi nominasi Oscar dua kali Joe Walker ("Blade Runner 2049," "Arrival," "12 Years a Slave"), visual effects supervisor yang meraih dua kali piala Oscar Paul Lambert ("First Man," "Blade Runner 2049"), special effects supervisor pemenang Oscar Gerd Nefzer ("Blade Runner 2049"), kepala bagian makeup dan hair designer/makeup Donald Mowat ("The Little Things," "Blade Runner 2049"); supervising sound editor pemenang Oscar Mark Mangini ("Mad Max: Fury Road," "Blade Runner 2049") dan supervising sound yang menjadi nominasi Oscar Theo Green ("Blade Runner 2049); re-recording mixer pemenang Oscar Doug Hemphill ("Last of the Mohicans," "Blade Runner 2049") dan re-cording mixer yang dua kali masuk nominasi Oscar Ron Bartlett ("Blade Runner 2049," "Life of Pi"). Ia juga berkolaborasi untuk pertama kalinya dengan director of photography yang mendapat nominasi Oscar Greig Fraser ("Lion," "Zero Dark Thirty," "Rogue One: A Star Wars Story"); costume designer yang tiga kali menjadi nominasi Oscar Jacqueline West ("The Revenant," "The Curious Case of Benjamin Button," "Quills") dan costume designer Robert Morgan; juga stunt coordinator Tom Struthers ("The Dark Knight" trilogy, "Inception"). Composer pemenang Oscar dan beberapa nominasi Oscar Hans Zimmer ("Blade Runner 2049," "Inception," "Gladiator," "The Lion King") masuk dalam hitungan.